This is the top of this web page.
---
---
The root of this site.
HISTORY of TOA CORPORATION
A grand vision of land reclamation in Tokyo Bay
---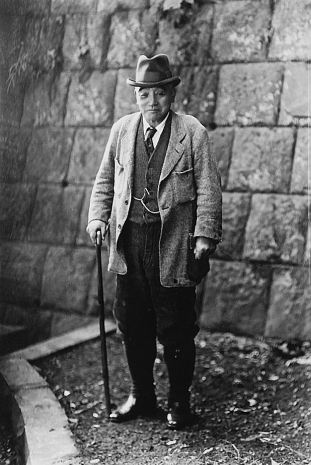 Soichiro Asano during a site survey
The history of Toa Corporation stretches back to 1908, when Soichiro Asano, founder of the Asano industrial conglomerate, submitted a bold plan to the Kanagawa prefectural government to reclaim nearly five million square metres of land at the mouth of the Tsurumi River.
With the support of Eiichi Shibusawa and Zenjiro Yasuda, Asano set up the Tsurumi Umetate Kumiai (Tsurumi Reclamation Association) in 1912 as the first step in his grand vision to reclaim part of Tokyo Bay.

1908

Soichiro Asano proposed major reclamation plan for Tsurumi-Kawasaki and surrounding regions

March 1912

Tsurumi Reclamation Association founded
Tsurumi Marine Works was founded in 1914 to take over the project from the Tsurumi Reclamation Association. By the end of 1915, the new company had completed work on the No. 7 section (now Suehiro-cho in Tsurumi-ku, Kanagawa Prefecture) with an area of 230,000 m2, of which just over 80,000 m2 was sold to Asahi Glass. The Asahi Glass factory at Tsurumi was the very first facility to be built on reclaimed land at Tsurumi-Kawasaki.

Daiichigo-sen Cutter suction dredger (subsequently renamed Shiota-maru)

January 1913

Governor of Kanagawa Prefecture issued permit for land reclamation at Tsurumi-Kawasaki

August 1913

Land reclamation work commences
Pump dredger Daiichigo-sen (subsequently renamed shiota-maru) built in Japan with equipment purchased from UK

4 March, 1914

Tsurumi Marine Works Co., Ltd. founded

November 1915

Contract concluded with Asahi Glass Co., Ltd. for sale of No. 7 section (approximately 80,000 m2)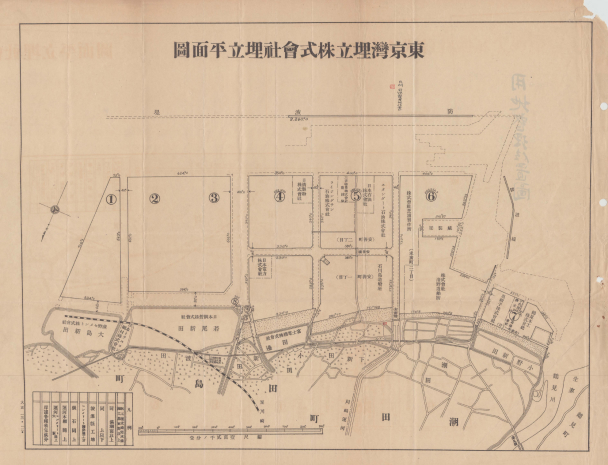 1924 map showing reclaimed area of Tsurumi-Kawasaki
Tokyo Bay Marine Works was founded in January 1920 and acquired Tsurumi Marine Works taking over all its projects with a broader vision of extending the reclamation area from Tsurumi into Tokyo Bay.
Although the Great Kanto Earthquake on 1 September, 1923 caused extensive damage in Tokyo and elsewhere, the reclaimed land in Tsurumi-Kawasaki was left relatively unharmed. This outcome served to demonstrate the safety of the reclaimed land and prompted many factories to relocate from Tokyo to the Keihin zone, which began to flourish as a result.

23 January, 1920

Tokyo Bay Marine Works Co., Ltd. founded

15 December, 1922

Began to take on contract works. Reclamation work begins for Yokosuka Naval Air Corps' base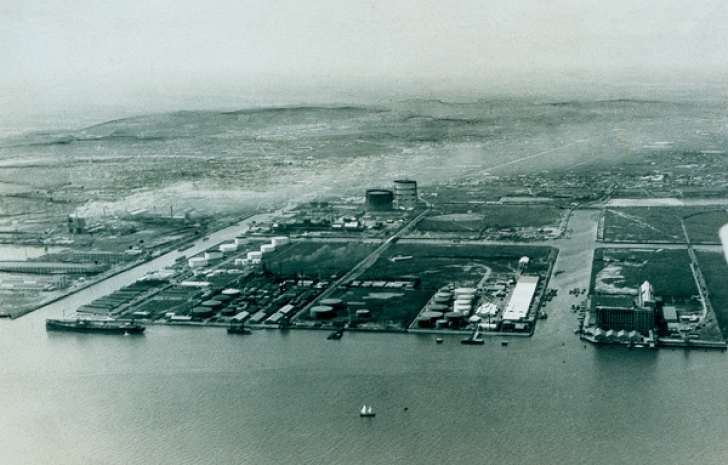 Anzencho area in about 1928
The combination of the financial shock sparked by the collapse of Watanabe Bank on 15 March, 1927 and the downturn that followed the lifting of the gold embargo in January 1930 catapulted the domestic economy into a major crisis. Tokyo Bay Marine Works found itself in a parlous financial state as sales of reclaimed land fell away sharply due to industry's unwillingness to consider new plant and equipment investments.

June 1927

Tsurumi-Kawasaki reclamation largely completed to boundaries of permit application

12 November, 1927

Osaka office opens

June 1930

Completion of diesel-powered pump dredger Musashi-maru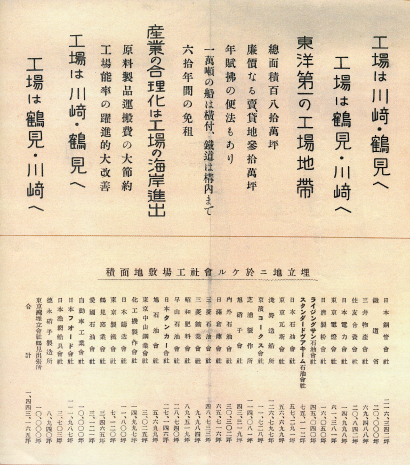 Tokyo Bay Marine Works advertisement from 1939 extolling the benefits of reclaimed land
Signs of a recovery in the Company's fortunes began to emerge as the rayon boom in 1933 generated a surge in demand for more reclaimed land for new factories and associated industrial sites along the coast of the Seto Inland Sea. The Company was also engaged by Ford Japan to provide a site area of around 370,000 m2 in the northern half of Suehiro-cho, Tsurumi-ku.

1 November, 1932

Contracting department was split off as Kowan Kogyo, Co., Ltd.

March 1933

Contracting department was split off as Kowan Kogyo, Co., Ltd.

29 July, 1935

Ford Japan placed major land order in Suehiro-cho, Tsurumi-ku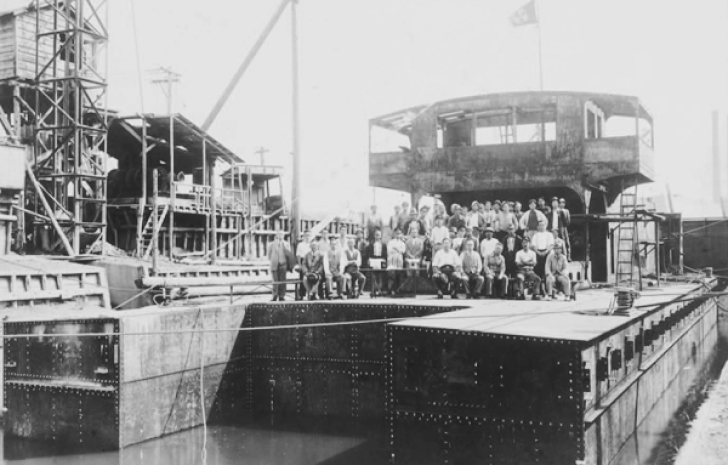 Rokugo-maru (successor to the Takao-maru used in Taiwan) under construction at the Toa Kowan Kogyo Keihin dock facility
Up until 1937, Kowan Kogyo had been developing land for peacetime industries in small to medium-scale ports and harbours. However, the company soon found itself called upon for large-scale land development projects for the military and related wartime industries, including some overseas projects. On 30 April, 1944, Tokyo Bay Marine Works and Kowan Kogyo merged to form a new entity called Toa Kowan Kogyo.

August 1937

Kowan Kogyo contracted to undertake major overseas land development projects in Taiwan and Korea

February 1938

Chofu office opens

30 April, 1944

Tokyo Bay Marine Works merged with Kowan Kogyo; company name changed to Toa Kowan Kogyo, Co., Ltd.
---

---
This is the end of this web page.