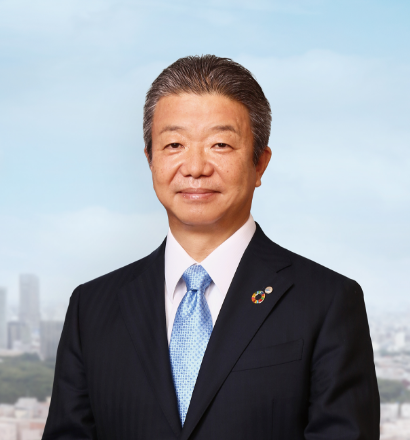 The Company's mission statement is "With its high level of technology, the Company strives to accomplish its social responsibility by expanding its business operations and building sound management to expand our activities". The basic principles of the Company's management are embodied in successfully competing through steady management plans, and building long-lasting trust through sincere, honest business practices, meeting the expectations and justifying the trust of customers, and developing and growing together with the customers.
Based on these basic principles of management, the Company will bring together the strengths of its technologies, its organization and its individuals, to identify issues and take concrete measures in order to bolster its revenue base, with the aim of achieving sustainable growth.
With regard to the domestic civil engineering business:
Undertake efforts to strengthen the ability to propose technical solutions by forming collaborations between Sales, Technology, the Head Office and branch offices with the aim of increasing the number of orders obtained by means of the comprehensive bidding process.
With the newly-established Projects Department, planned investments will be made in preparation to secure projects in relation to shipping, port facilities and equipment. In this respect medium and long-term approach will be taken to secure projects.
With regard to the domestic construction business:
Engage in efforts to strengthen operational and technological capabilities, as well as improve work quality, by establishing strategic organizations.
Secure a steady volume of work by continuously obtaining orders from highly-valued customers in housing-related industries, and maintain the volume of orders for warehouses in coastal areas, (which are a specialty of the Company), as well as for medical and welfare-related facilities.
With regard to business overseas:
With Southeast Asia as the base, efforts will be made to achieve gradual growth of businesses, while taking a mid- to long-term view for raising the technological capabilities and nurturing human resources.
Secure high-value business by conducting meticulous and thorough risk management and careful selection of orders for acceptance.
With regard to the areas of management and administration the Company shall:
promote thorough awareness of "prioritize safety over everything."
maintain efforts to fulfill its corporate social responsibility (CSR).
strive to further strengthen the Company's financial standing.
It is our sincere hope that the Company will be able to meet the challenges of the harsh economic environment, as well as accomplish a broad range of corporate social responsibilities, including earthquake recovery efforts and preservation of the environment. By faithfully fulfilling its mission statement, mentioned above. the Company's mid- and long-term management strategies are based on a thorough awareness that "safety must have priority over all else." The Company shall continue to develop and grow as a fair and highly trusted corporation.
We look forward to the continued patronage, full support, and cooperation of all our shareholders, our new as well as our longstanding customers, and everyone in the local communities.
President
Chief Executive Officer
Takeshi Hayakawa